Law Enforcement Camping on Krispy Kreme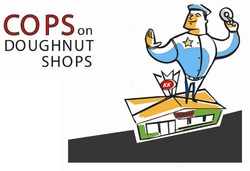 Help Law Enforcement get off the Krispy Kreme roof!
Thank you for supporting our fundraising efforts. Law Enforcement will be camping on the rooftop of Krispy Kreme beginning on Thursday, October 11th. They made a pledge to Special Olympic Athletes that they will not get off the roof until they raise at least $20,000.00!
Donations can be made to the Cops on Top of Krispy Kreme at
You can also help support Special Olympics by:
1.Buy donuts at the Meridian Krispy Kreme between Oct 11th & Oct. 13th.
2.Make lunch or dinner plans at Red Robin between Fri. Oct 12th and Sat. Oct 13th, and Tip a Cop!
4. Bring your children to the Trunk-or-Treat event on Fri., Oct. 12th from 6:30 to 9:00pm
*This is a fun, safe way to take your kids trick or treating. And it's out of the back of
police cars! Live music will be provided!
5. Register to participate in the Fire Truck Pull for Sat., Oct. 13th
Questions? Go to register, visit: idso.org, facebook.com/SpecialOlympicsID or call Shannon at (800) 915-6510 ext 15.
CONTACT Shannon Reece shannon@idso.org